From: Jiang, Lifen <lfjiang_at_nyahnyahspammersnyahnyah>
Date: Tue Feb 19 2013 - 11:05:57 MST
Hello NCL,

I am regridding my data with two dimemsions (lat = 1676 and lon=4320) to LAT =180 and LON=360.

However, when I ran my scripts (followed example from NCL), I got a new data file in which all values are missing values (every grid is empty).

I have uploaded my data file to ftp folder (incoming) and attached summary and scripts here.

Any help will be appreciated!

Lifen

************************************************

Summary:

Scripts:

load "$NCARG_ROOT/lib/ncarg/nclscripts/csm/gsn_code.ncl"
load "$NCARG_ROOT/lib/ncarg/nclscripts/csm/gsn_csm.ncl"
load "$NCARG_ROOT/lib/ncarg/nclscripts/csm/contributed.ncl"
load "$NCARG_ROOT/lib/ncarg/nclscripts/csm/shea_util.ncl"
begin
a = addfile ("med_c0_kgm-2.nc", "r")
t=a->y
printVarSummary(t)
;create a sequence for the new values of lat
newlat=fspan(-89.50,89.50,180)
;create a sequence for the new values of lon
newlon=fspan(-179.5,179.5,360)
newlat@units = "degrees_north"
newlon@units = "degrees_east"
regrid=linint2(t&lon,t&lat,t,True,newlon,newlat,0)
regrid!0 = "LAT"
regrid!1 = "LON"
regrid&LAT = newlat
regrid&LON = newlon
printVarSummary(regrid)
system("/bin/rm -f Regrid.nc")
fout=addfile("Regrid.nc","c")
fout@title="Regrid_1*1"
fout->regrid=regrid
end

_______________________________________________
ncl-talk mailing list
List instructions, subscriber options, unsubscribe:
http://mailman.ucar.edu/mailman/listinfo/ncl-talk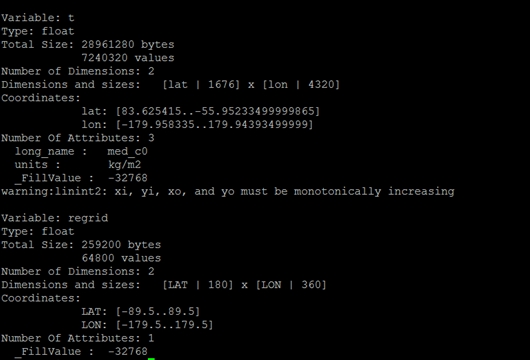 Received on Tue Feb 19 11:06:13 2013