Re: how to add the US-CANADA borders in the Great Lakes?
From: Mary Haley <haley_at_nyahnyahspammersnyahnyah>
Date: Wed Dec 18 2013 - 09:45:39 MST
Hi,

Do you mean the red outlines you see in the attach PNG?

I tried to see if I could get these with the various Earth..n settings with the "mpDataSetName" resource, but didn't have much luck.

I then tried the Canada shapefiles downloaded from gadm.org/country. See the attached script which generates this image.

--Mary

On Dec 16, 2013, at 2:53 PM, Gmail <annddyshow@gmail.com> wrote:

> Dear NCL users,
>
> Iíd like to add the US-Canada boundaries in the Great Lakes.
> Did any draw this before?
>
> The following just donít work anyway.
>
> res@mpPerimOn = False
> ;res@mpDataBaseVersion = "Ncarg4_1"
> ;res@mpOutlineBoundarySets = "GeophysicalAndUSStates" ; state boundaries
> res@mpOutlineBoundarySets = "AllBoundaries" ; state boundaries
> res@mpFillOn = False ; no map fill
>
>
> Thanks.
>
> _______________________________________________
> ncl-talk mailing list
> List instructions, subscriber options, unsubscribe:
> http://mailman.ucar.edu/mailman/listinfo/ncl-talk

_______________________________________________
ncl-talk mailing list
List instructions, subscriber options, unsubscribe:
http://mailman.ucar.edu/mailman/listinfo/ncl-talk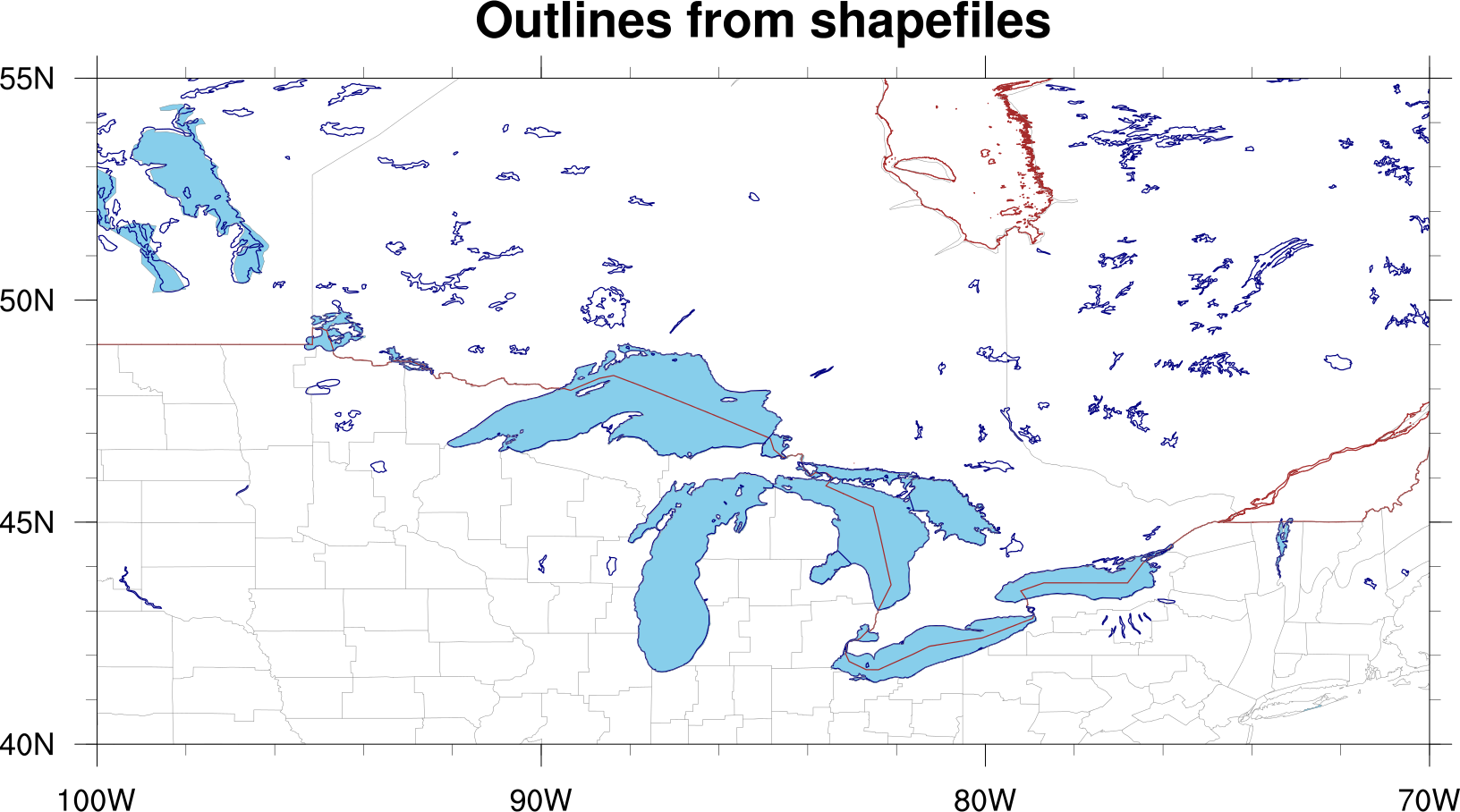 Received on Wed Dec 18 09:45:56 2013
This archive was generated by hypermail 2.1.8 : Wed Dec 18 2013 - 14:29:51 MST